Bible Story: Jesus' Death and Resurrection | Matthew 26:58-68, 27:11-28:10, Mark 14:53-16:10, Luke 22:63-24:9, John18:1-20:20
Main Point: Jesus Took My Punishment!
Memory Verse: "Give thanks to the Lord for he is good. His love endures forever." Psalm 136:1 (NIV)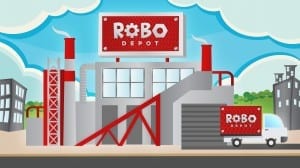 Lesson Overview
Robo Depot is the speediest warehouse around, delivering robot parts with speed to those in need! We joined Speedy Sam to help deliver a robot oil pumper to Dr. Tomorrow, Robo Depot's best customer. Dr. Tomorrow and his friends Newton and Pixie are building a robot to tell others about Jesus and are going to need lots of Robot Parts from Robo Depot.
At Dr. Tomorrow's Robot Repair Shop, Newton and Pixie were cleaning the shop while Dr. Tomorrow was gone. As they were cleaning up, Pixie accidentally broke Dr. Tomorrow's favorite crystalline orb! Being the good friend he was, Newton offered to take the punishment for Pixie breaking the crystalline orb. Dr. Tomorrow shared a Bible story about Jesus dying on the cross for our sins. Jesus didn't have to take our punishment, but he did because he loves us. During our time visiting Dr. Tomorrow's Robot Repair Shop, kids learned "Jesus Took My Punishment!"
Tool of the Day
Speedy Sam helps deliver robot parts with speed to those in need, but with each delivery, customers receive a special tool – the Tool of the Day! This weekend's Tool of the Day was the hammer. Customers weren't the only ones who received a hammer with their delivery, though. Quest children also received their own hammer too! Each weekend, children will collect a different Tool of the Day to help them remember what we learn in Quest.
Children who come to Quest this weekend will receive their very own Robo Depot tool belt to hold all of the tools they will collect during our time at Robo Depot!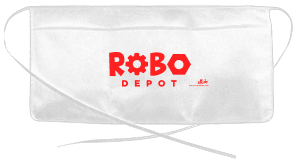 Memory Verse
Below is our memory verse during Robo Depot. Use the hand motions to help your child learn this verse. Children who can recite this verse on the weekend of MAY 31 / JUNE 1 will receive a special robot prize!
Give thanks (prayer hands)
to the Lord, (point up)
for he is good. (two thumbs up)
His love (cross arms over chest)
endures forever. (spread arms wide)
Psalm 136:1 (NIV)