Bible Story: Jesus Goes To The Temple | Luke 2:41-52
Main Point: Jesus Learned Like Me!
Memory Verse: "Give thanks to the Lord for he is good. His love endures forever." Psalm 136:1 (NIV)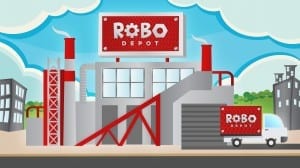 Lesson Overview
Robo Depot is the speediest warehouse around, delivering robot parts with speed to those in need! We joined Speedy Sam to help deliver a robot oil pumper to Dr. Tomorrow, Robo Depot's best customer, as him and his team build a robot to tell others about Jesus.
This weekend at Dr. Tomorrow's Robot Repair Shop, Pixie was so excited to work on the robot she didn't watch Dr. Tomorrow's instructional video before getting started. Because she didn't learn the next steps, she didn't know how to add the robot head to make it work! Newton talked to Pixie and let her know watching Dr. Tomorrow's instructional video was very important and they took some time to watch and listen to his instructions. During the instructional video, Dr. Tomorrow shared a Bible story about Jesus learning about God in the temple from the church leaders. During our time visiting Dr. Tomorrow's Robot Repair Shop, kids learned "Jesus Learned Like Me!"
Tool of the Day
Speedy Sam helps deliver robot parts with speed to those in need, but with each delivery, customers receive a special tool – the Tool of the Day! This weekend's Tool of the Day was the saw. Customers weren't the only ones who received a saw with their delivery, though. Quest children also received their own saw, too! Children also received their very own Robo Depot tool belt to to hold all of the tools they will collect during our time at Robo Depot! Make sure your child visits Robo Depot next weekend to collect their third tool!
Memory Verse
Below is our memory verse during Robo Depot. Review this verse during your drive time, during dinner, or at bed time so your child can learn it. Children who can recite this verse on the weekend of MAY 31 / JUNE 1 will receive a special robot prize!
Give thanks (prayer hands)
to the Lord, (point up)
for he is good. (two thumbs up)
His love (cross arms over chest)
endures forever. (spread arms wide)
Psalm 136:1 (NIV)