Bible Story: Peter Tells Everyone About Jesus | Acts 2
Main Point: I Will Tell Everyone About Jesus!
Memory Verse: "Give thanks to the Lord for he is good. His love endures forever." Psalm 136:1 (NIV)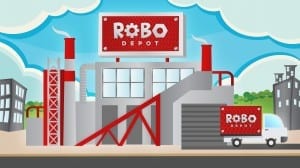 Lesson Overview
The robot Newton and Pixie have been building was almost ready to tell others about Jesus, but was missing one robot part. Do you know which part the robot was missing? (Hint – you need it to tell others about Jesus.) That's right, the mouth was missing! This weekend at Dr. Tomorrow's Robot Repair Shop, Newton and Pixie put a mouth on the robot and now he can finally tell others about Jesus!
As Newton and Pixie were putting the finishing touches on the robot, they inputed some information about what the robot should tell others about Jesus. They decided the robot should tell friends at church about Jesus, but when they inputed that into the computer, the robot still didn't work. When they ran out of ideas, they called TiMo to see if he had any ideas to make the robot work, and he did! TiMo showed Newton and Pixie a Bible story about a man named Peter.
Peter and his friends knew about Jesus, but not a lot of other people did. One day when a strong wind filled the house Peter and his friends were meeting in, lots of people gathered to see what was happening! Peter knew it was the perfect time to tell them about Jesus, so he and his friends stepped forward to tell everyone about Jesus and His love for us. Children learned that just like Peter, they can tell everyone they know about Jesus, too!
Newton and Pixie knew they wanted their robot to tell everyone about Jesus so they inputed that into the robot, and the robot finally worked! Newton and Pixie's robot is now ready to tell everyone about Jesus!
Tool of the Day 
This weekend's Tool of the Day was a wrench. Wrenches are important to make sure all nuts and bolts are tightened when building a robot. All customers who ordered robot parts from Robo Depot this weekend got a wrench with their delivery. Each Quest child received their very own wrench to bring home to put in their Robo Depot tool belt and help them remember what we learn in Quest.
Memory Verse 
We are so proud of all the Quest children who recited their memory verse this weekend across all of our 10 locations! Keep practicing this verse with your child so they can continue to know and love God's Word!
Give thanks (prayer hands)
to the Lord, (point up)
for he is good. (two thumbs up)
His love (cross arms over chest)
endures forever. (spread arms wide)
Psalm 136:1 (NIV)