Monthly Focus: God Says I Can Be A Good Friend!
Bible Story: David and Jonathan | 1 Samuel 18-20
Weekend Activity: Give A High Five craft activity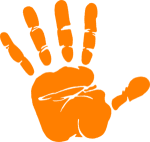 One way be can be a good friend is by saying hi to our friends. We can say hi by giving our friends high fives! Hide your child's Give a High Five craft and encourage your toddler to find it. When your toddler finds it, say, "[insert toddler's name] is a good friend! God says we can be good friends!" and give your toddler a high five. Repeat a few times.
Click HERE to download the weekly parent letter newsletter.