Monthly Focus: God Wants Me to Give Thanks!
Bible Story: The 10 Lepers | Luke 17:11-19
Weekend Activity: I Said Thanks! activity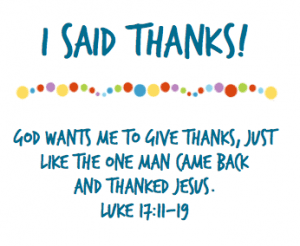 Each day this week find an opportunity to tell your toddler 'thanks.' Tell you toddler 'thanks' when he or she obeys or helps a friend or family member. Say, "Thank you (insert child's name) for _________________.  God wants us to give thanks, just like the one man who came back and thanked Jesus." Be intentional about saying 'thanks' to other families members when your toddler is near. Toddlers listen and learn best through repetition.
Click HERE to download the weekly parent letter newsletter.