Monthly Focus: God Wants Me to Give Thanks!
Bible Story: The 10 Lepers | Luke 17:11-19
Weekend Activity: One Came Back coloring page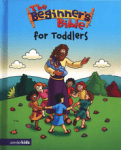 This month toddler's are learning God wants me to give thanks! through the story of the 10 lepers. Toddlers will hear the Bible story each week from The Beginner's Bible for Toddlers. If you are looking for a Bible for your toddler, this Bible is a great starting point for children and contains 25 key stories and Bible characters.
Review the Bible story with your toddler using the One Came Back coloring page. Ask your toddler questions about the story based on the coloring page:
How many men were sick? (ten)
How many men came back to say 'thank you' to Jesus? (one)

Say, "Jesus healed ten men, but only one came back to say thanks. God wants us to give thanks! We can give thanks for everything." Lead your toddler in a simple prayer, thanking God for food, friends, Jesus, family, etc.
Click HERE to download the weekly parent letter newsletter.