Monthly Focus: Jesus is the Greatest Gift!
Bible Story: Jesus is Born | Luke 2:1-14
Weekend Activity: Nativity Ornament craft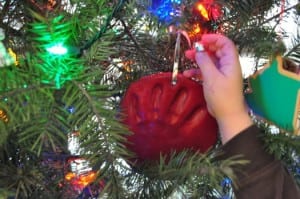 Help your toddler put the ornament he or she made in eKidz on a branch of your Christmas tree. Make sure the ornament is hung in a place which is easy for your toddler to see. Each time you and your child see the ornament, celebrate how glad you are that God sent us His greatest gift, Jesus! Sing the "Jesus Loves Me" Christmas song and say a simple prayer thanking God for sending Jesus.
Jesus Loves Me Christmas Song
(to the tune of "Jesus Loves Me")
Mary had a baby boy,
And her heart was filled with joy.
God's own Son is born today,
In a manger filled with hay.
CHORUS:
It's Jesus' birthday,
It's Jesus' birthday,
It's Jesus' birthday, and I thank God for Him.
Shepherds heard the angels say,
"Jesus Christ is born today.
Bethlehem is where He'll be.
Hurry off so you can see."
REPEAT CHORUS
Click HERE to download the weekly parent letter newsletter.