Monthly Focus: Jesus is the Greatest Gift!
Bible Story: Jesus is Born | Luke 2:1-14
Weekend Activity: Christmas Tree coloring page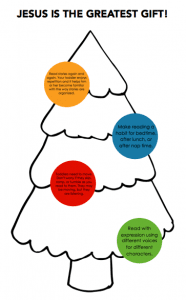 Use your toddler's coloring page to remind your toddler Jesus is the greatest gift we will ever receive. Read the Christmas story to your toddler. Use the reading tips found on the coloring page and ask your toddler questions about the story:
Where was baby Jesus born?
What's the best thing about Christmas?
Who did Jesus come for?
Who is the greatest gift?
Click HERE to download the weekly parent letter newsletter.