MONTHLY FOCUS: Jesus is the best!
VERSE FOCUS: "God loved the world so much that He gave His only Son." John 3:16 (GNT)
BIBLE STORY: Jesus is Alive! Matthew 26-28
This month we are learning, "Jesus is the best!" We read the story "Jesus is Alive!" in Matthew 26-28. Jesus knew He had to die on a cross for the sins of all people because it was part of God's plan. But He didn't stay dead! Mary Magdalene and her friends saw an angel at Jesus' grave who said "Jesus is not here. He is alive!" When they saw Jesus, He said, "Go tell my helpers I will see them soon." Jesus loves us so much, that He died on a cross for us. Jesus is the best!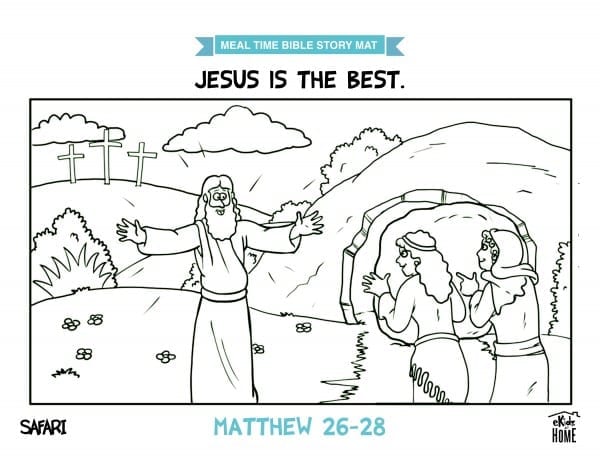 We made a Bible story mat to help us remember Jesus is the best! Place the Meal Time Bible Story Mat at the table where your toddler eats. Before each meal, point to the place mat and review the Bible story with your child:
What do you see in the picture? (Jesus talking to some ladies who are happy.)

What did God teach us in the story "Jesus is Alive?" (Jesus came back alive and it made His friends happy.)
Say, "Jesus didn't stay dead and that makes me happy. Jesus is the best!"