WE'RE LEARNING… Jesus is alive!
MEMORY VERSE: "He has risen!" Mark 16:6b (NIV)
BIBLE STORY: Jesus is Alive! I Matthew 26-28
This month we're learning, "Jesus is alive!" God sent His Son, Jesus, to die on the cross to for the wrong thing we've done. Three days later, Jesus came back and now He is alive and lives in Heaven.
We will learn the story, "Jesus is Alive!" in Matthew 26-28. It was part of God's plan for Jesus to die on a cross for us. After Jesus died, some of His friends went to His grave and they were surprised to see an angel. The angel told them, "He isn't here. He is alive!" Jesus loves us so much that He died on the cross! Now He is alive in Heaven and wants to be our friend forever!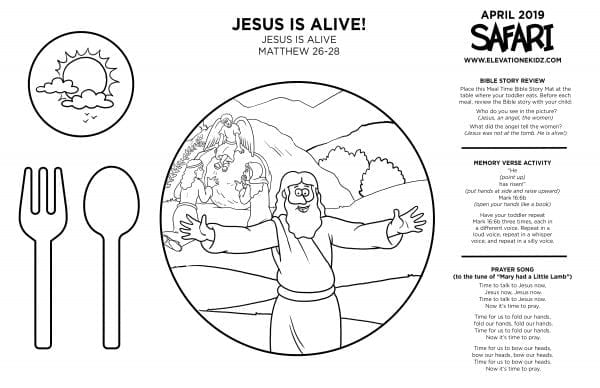 We made a Bible Story Meal Time Mat to help us remember that Jesus is alive. Place the Bible Story Meal Time Mat at the table where your toddler eats. Before each meal, point to the place mat and review the Bible story with your toddler:
Who do you see in the picture? (Jesus, an angel, the women)
What did the angel tell the women? (Jesus was not at the tomb. He is alive!)
Say, "Jesus died on the cross for you and me, but He didn't stay dead. He is alive and He lives in Heaven! Who is alive?" Encourage your toddler to say, "Jesus is alive!"