WE'RE LEARNING… God is good.
MEMORY VERSE: "The Lord is good to everyone." Psalm 145:9a (NLT)
BIBLE STORY: The Good Shepherd I Psalm 23
This month we're learning "God is good." God is good, and He loves us so much. He always takes care of us and gives us so many good things!
We will learn the story, "The Good Shepherd," in Psalm 23. David wrote a song about how God loves us and cares for us like a shepherd cares for his sheep. We can read David's song in the Bible to learn that God is good to us. David's song shows us that just like a shepherd, God will take care of us and give us so many good things. This month, we want our toddlers to learn the foundational truth that God is good and He loves them so much!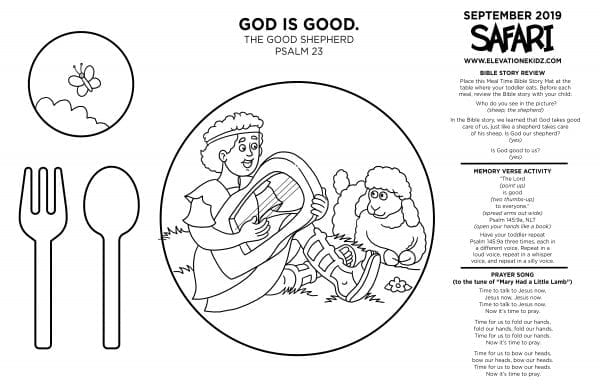 We made a Bible Story Meal Time Mat to help us remember that God is good. Place the Bible Story Meal Time Mat at the table where your toddler eats. Before each meal, point to the placemat and review the Bible story with your toddler:
Who is in the picture? (a sheep, a shepherd)

In the Bible story, we learned that God takes good care of us — just like a shepherd takes care of his sheep. Is God our shepherd?

(yes)
Is God good to us? (yes) 
Say, "That's right! God is good, and He loves us so much! Just like a shepherd takes care of his sheep, God takes care of us, and He gives us so many good things. Who is good?" Encourage your toddler to say, "God is good!"