POST TITLE: Safari :: Week of December 3
MONTHLY FOCUS: Jesus is God's son.
VERSE FOCUS: "I bring you good news of great joy." Luke 2:10 (NLV)
BIBLE STORY: Baby Jesus is Born I Luke 2:1-7
This month we are learning, "Jesus is God's son." We learned about the story of baby Jesus being born in Luke 2:1-7. God sent Jesus to Earth as a baby and He was born in a stable. The Bible says that Mary wrapped baby Jesus in cloth and laid Him in the manger. Baby Jesus was born a LONG time ago in a stable, and we celebrate that on Christmas Day. Jesus is special because He is God's son.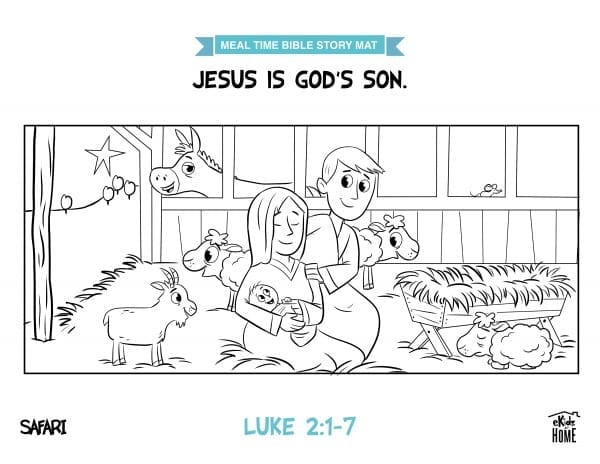 We made a Bible story mat to help us remember Jesus is God's son. Place the Meal Time Bible Story Mat at the table where your toddler eats. Before each meal, point to the place mat and review the Bible story with your child:
Who do you see in the picture? (Joseph, Mary, and baby Jesus)
What did God teach us in the story of Jesus' birth? (Jesus is God's son and He came to save theworld.)Say, "In the picture you see Mary, Joseph, and baby Jesus on the night He was born. We celebrate Jesus' birth at Christmas." Pray with your toddler. Say, "Dear God, thank You for sending Jesus to us. We know that Jesus is Your son. Help us to know and celebrate the gift of Jesus. Amen."