MONTHLY FOCUS: Jesus loves you.
VERSE FOCUS: "How wide and long and high and deep is the love of Christ." Ephesians 3:18 (NIV)
BIBLE STORY: Jesus and the Children I Luke 18:15-17
This month we are learning, "Jesus loves you." We read the story of Jesus and the Children in Luke 18:15-17. Jesus was teaching a crowd of people and said, "Let the children come to me." He held the children and He told the crowd to never stop children from coming to see Him, because children are very important to God. Jesus loved the children in the Bible story and He loves us, too.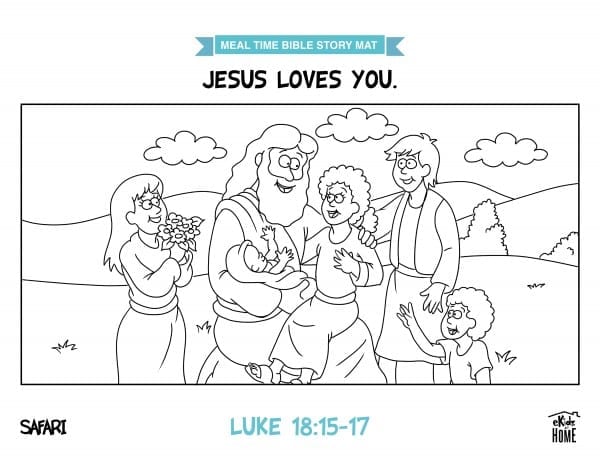 We made a Bible story mat to help us remember Jesus loves us. Place the Meal Time Bible Story Mat at the table where your toddler eats. Before each meal, point to the place mat and review the Bible story with your child:
What do you see in the picture? (Jesus and the children.)
What did God teach us in the story of Jesus and the children? (Jesus loves us.)
Say, "Just like Jesus loved the children in the Bible story, He loves us, too."