MONTHLY FOCUS: Jesus loves everyone.
BIBLE VERSE: "Love each other as I have loved you." John 15:12 (NIV)
BIBLE STORY: Jesus Loves Zaccheus | Luke 19:1-10
This month we are learning, "Jesus loves everyone." Even if we don't always make a good choice, Jesus will still love us, because Jesus loves everyone! We learned the story, "Jesus Loves Zacchaeus," in Luke 19:1-10. Zacchaeus was taking too many coins from people, and that was not a good choice.
Jesus came to Zacchaeus's town one day. There were lots of people, so Zacchaeus climbed a tree so he could see Jesus. Jesus knew he was not making good choices, but He wanted to be Zacchaeus's friend anyway. Jesus told him to get down from the tree and take Him to his house. WOW! Jesus loved Zacchaeus no matter what! Jesus loves everyone!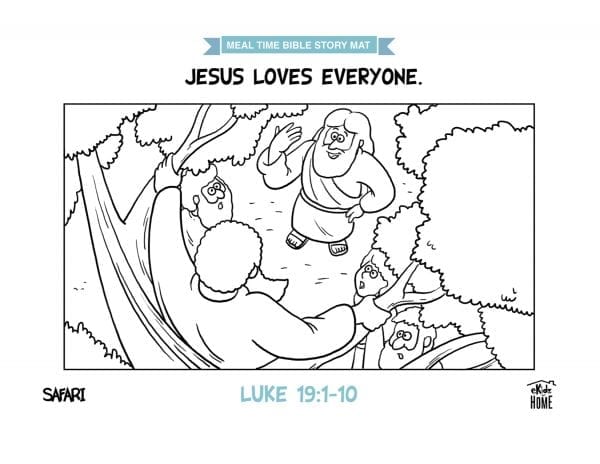 We made a Bible story mat to help us remember Jesus loves everyone. Place the Meal Time Bible Story Mat at the table where your toddler eats. Before each meal, point to the place mat and review the Bible story with your child:
Who do you see in the tree? (Zacchaeus)
Even though Zacchaeus took people's money, did Jesus still love him? (Yes, Jesus loves everyone.)
Say, "Yes, Jesus asked Zacchaeus to come down from the tree so He could go to his house. Because Jesus was kind to Zacchaeus, he returned the money he took from people! Who loves everyone?" Encourage your toddler to say, "Jesus loves everyone!"