WE'RE LEARNING… God helps me.
MEMORY VERSE: "God is my helper." Psalm 54:4a (CSB)
BIBLE STORY: The Mean Giant I Luke 2:1-7
This month we're learning, "God helps me." God will always be there to help us. He loves us and wants to help us every day!
We are learning the story, "The Mean Giant," in 1 Samuel 17:1-50. When everyone was afraid to fight Goliath, David stepped up. He was only a young boy, but David knew God would help him. David took a stone, swung it at Goliath, and it hit him right in the head. God helped David win the battle and He will help us, too! God loves us and He wants to help us! When we're scared, tired, or need help making the right choices, we can always ask God for help.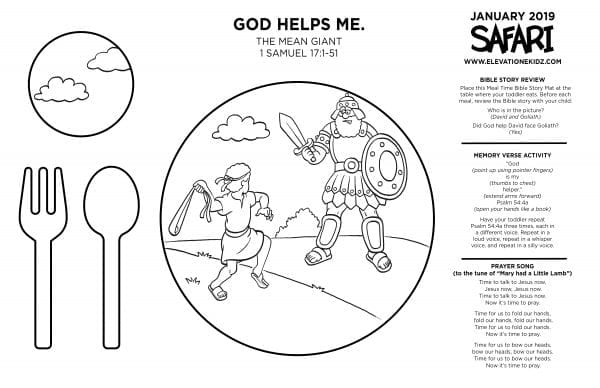 We made a Bible Story Meal Time Mat to help us remember God helps us. Place the Bible Story Meal Time Mat at the table where your toddler eats. Before each meal, point to the place mat and review the Bible story with your toddler:
Who is in the picture? (David and Goliath)
Did God help David face Goliath? (Yes)
Say, "God helped David fight Goliath and He can help us, too! Who helps me?" Encourage your toddler to say, "God helps me."