MONTHLY FOCUS: I can love everyone.
VERSE FOCUS: "Love one another." John 13:34 (NIV)
BIBLE STORY: The Greatest Commandment I Matthew 22:34-40
This month we are learning, "I can love everyone." We read the story of The Greatest Commandment in Matthew 22:34-40. Some men were walking along a road when they asked Jesus, "What is the most important rule we should know?" Jesus told them to love God with all of your heart. He said we should love other people, too. In the Bible story, Jesus taught the men it was important to love everyone and we should love everyone, too.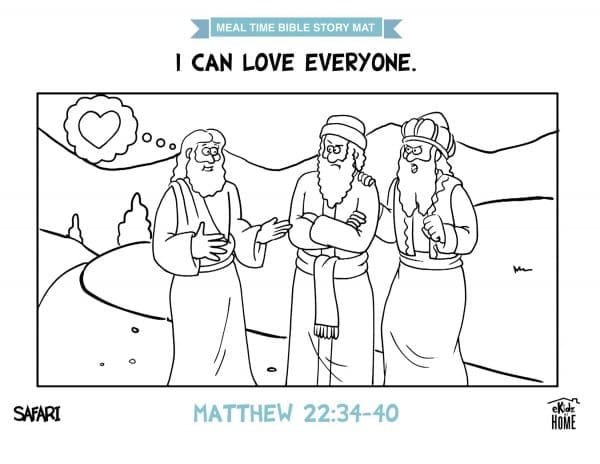 We made a Bible story mat to help us remember we can love everyone. Place the Meal Time Bible Story Mat at the table where your toddler eats. Before each meal, point to the place mat and review the Bible story with your child:
What do you see in the picture? (Jesus talking to the men.)
What did God teach us in the story of The Greatest Commandment? (We can love everyone.)
Say, "Just like Jesus loves everyone, we can love everyone, too."