MONTHLY FOCUS: I Can Give Thanks
VERSE FOCUS: "Always give thanks to God." Ephesians 5:20 (NIV)
BIBLE STORY: Ten Lepers I Luke 17:11-19
This month we are learning, "I can give thanks." We will learn about the story of the Ten Lepers in Luke 17: 11-19. Jesus healed all 10 of the lepers, but only one of them came back to tell Jesus thank you. God wants us to have a thankful heart and express our thankfulness.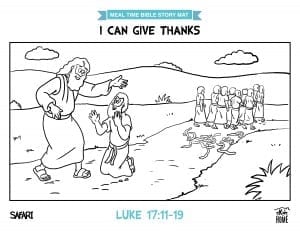 We made a Bible story mat to help us remember we can give thanks. Place the Meal Time Bible Story Mat at the table where your toddler eats. Before each meal, point to the place mat and review the Bible story with your child:
What do you see in the picture? (The man telling Jesus, 'thank you.')
What did God teach us in the story of the Ten Lepers? (I can give thanks.)
Say, "In the picture you see that Jesus healed ten men who were sick. Only one of the men went back to tell Jesus 'Thank you.'" Pray with your toddler.
Say, "Dear God, thank You so much for always taking care of us. Thank You for giving us the things we need. Help us to always give thanks. We love You. Amen."