MONTHLY FOCUS: God's Rules are Good
VERSE FOCUS: "If you love me, you will obey my commands." John 14:15 (NCV)
BIBLE STORY: Ten Rules I Exodus 19-20
This month we are learning, "God's rules are good." God loves us so much and wants the best for us. In the Bible story of The Ten Commandments we learn about 10 rules that God gave to Moses. These ten rules are what God wants us to obey to live the best life.
We will learn about the story of Moses and the Ten Commandments in Exodus 19-20. Moses was a man who God was using. He called Moses to go up a mountain and He told Moses the ten commandments. These ten commandments are rules we should follow so we can live a God honoring life.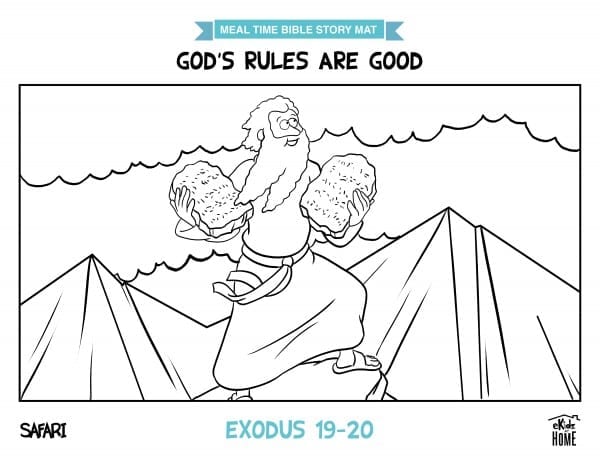 We made a Bible story mat to help us remember God's rules are good. Place the Meal Time Bible Story Mat at the table where your toddler eats. Before each meal, point to the place mat and review the Bible story with your child:
What do you see in the picture? (Moses on the mountain.)

What did God teach us in the story of The Ten Commandments? (God's rules are good.)
Say, "God called Moses to the top of a mountain to give him 10 rules we should follow. They are called the Ten Commandments." Pray with your toddler, "Dear God, thank You so much for loving us. Thank You for giving us rules to live by so we can live a good life and bring happiness to You. Help us to follow these rules. Amen."