MONTHLY FOCUS: God keeps His promises.
MEMORY VERSE: "Trust the Lord with all your heart." Proverbs 3:5 (NCV)
BIBLE STORY: Noah's Ark | Genesis 6-9
This week we made a craft to remind us that God keeps His promises. Grab the rainbow your toddler colored and play a fun game with your toddler to help them remember that God keeps His promises!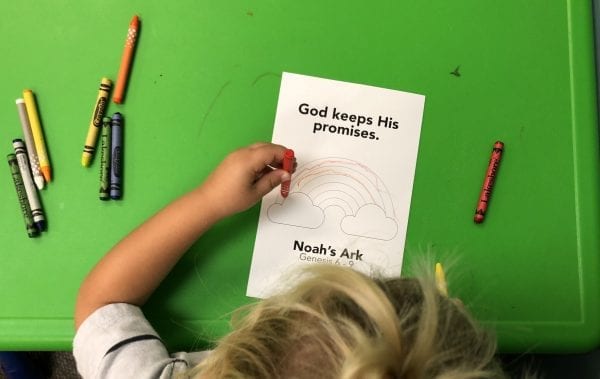 Give your toddler their newsletter and say, "I'm going to say a promise in God's Word and I want you to hold up your rainbow if you know that God will keep that promise. Are you ready?"
Say the following promises and encourage your toddler to hold his or her rainbow in the air.

"In His Word, God promises to…"
be with us
help us
always love us
give us what we need
comfort us
hear our prayers

Continue as long as your toddler is interested.
At the end of the activity say, "Wow, you did a great job! Remember, God always keeps His promises and we can read about them in His Word! Who keeps His promises?" Encourage your toddler to say, "God keeps His promises!"