Bible Story: Matthew 2:1-2, 9-11 | The Wise Men
Main Point: I can have joy when things are hard!
Memory Verse: "Always be joyful. Never stop praying. Give thanks no matter what happens." 1 Thessalonians 5:16-18a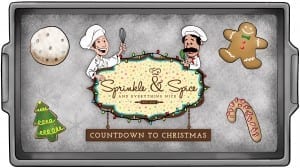 Lesson Overview
We were busy baking this weekend in the kitchen at Sprinkle and Spice and Everything Nice bakery! But it wasn't all candy canes and goody goody gumdrops for Chef Spice and his assistant, the Pastry Chef. With another kitchen mishap on our hands, Chef Sprinkle was there to save the day once again!
Chef Spice learned he should never lose joy when things are hard. Even though the journey to Jesus was long and hard for the wide men, they didn't lose their joy! After hearing the Bible story, Chef Spice decided to have joy and he and the Pastry Chef baked up some delicious Gingerbread Man Cookies!
Cookie of the Day Recipe Card
Children collected another Cookie of the Day recipe card to put in their Sprinkle Family Recipe Book. This weekend's Cookie of the Day was Gingerbread Man Cookies. Make Gingerbread Man Cookies this week with your family and send us a picture of your own chefs! Connect with eKidz through Twitter (@eKidz) or Instagram (@elevationeKidz).
Memory Verse
Each weekend as we help the chefs in the kitchen we will learn how we can have joy through the story of Jesus' birth. God's Word says:
Always be joyful. (point to smiling face)
Never stop praying. (prayer hands)
Give thanks (point up)
no matter what happens. (spread arms wide)
1 Thessalonians 5:16-18a (NIrV)
We can have joy in all we do, whether we are baking Christmas cookies, cleaning our room, or serving others. Join us in helping your child learn this verse.