Bible Story: Luke 2:6-21 | Baby Jesus
Main Point: I can have joy because God loves me!
Memory Verse: "Always be joyful. Never stop praying. Give thanks no matter what happens." 1 Thessalonians 5:16-18a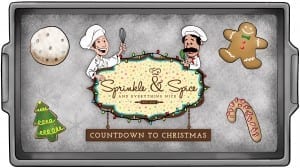 Lesson Overview
Merry Christmas from everyone at Sprinkle and Spice and Everything Nice bakery! Our Quest friends visited the bakery one last time before the shop closed for the holidays. And with Christmas almost here, the chefs were busier than ever finishing the last cookie order for Candy Cane Cookies.
Chef Spice learned he should never lose his joy because God loves us! God sent Jesus to save the world because He loves everyone so much. Because God loves us, we can always have joy! Chef Spice and the Pastry Chef finished baking the Candy Cane Cookies with joyful attitudes!
Cookie of the Day Recipe Card
Children collected their final Cookie of the Day recipe card to put in their Sprinkle Family Recipe Book. Make Candy Cane Cookies this week with your family!
If you've captured some fun memories with your little chef in the kitchen during this series, we'd love to see your pictures on Twitter (@eKidz) or Instagram (@elevationeKidz). Make sure to use the hashtag #SprinkleAndSpice!