Bible Story: Noah Did What Was Right | Genesis 6:5-10
Main Point: "I Will Do What Is Right!"
Memory Verse: "This is love for God: to keep his commands." 1 John 5:3a (NIV)
Grab a cloud and get ready to go in the sky so high! We're traveling up, up, up with our friend Sunny the Cloud to learn lessons from the life of Noah. We're searching for sunny skies for those aboard the Two By Two cruise ship, but can passengers Sydney and Shelby obey the ship's captain long enough to enjoy it?

Sunny the Cloud lives up in the sky and loves all types of weather, but most of all loves hanging out with his friends, the Quest animals! This weekend, children helped Sunny spy Blue Beaver floating on a cloud in the sky. Blue Beaver loves to look around the sky to see what shapes we can find in the clouds and wanted us to play a fun cloud game together where we found a blueberry, a bumper car, and a smiley face cloud!
After our fun cloud game, we saw the Two by Two cruise ship passing by below. We looked down to see what was happening on the upper deck of the ship and saw our friends Sydney, Shelby, and the ship's captain, Aunt Jessie. We also saw Shelby get pushed and and skipped in line by a girl on her way to the ship's theater so the girl could get to the theater quicker. Shelby was so upset she pushed the girl back, which was not the right thing to do. Aunt Jessie heard the commotion and broke up the girls right away! Aunt Jessie knew the daily Bible story being shown in the theater would help Shelby understand that what she did was not the right thing.
In the theater, we heard a Bible story about a man named Noah. God created the world and people, but people stopped obeying God and were doing mean and evil things. There was only one person who was doing what was right – Noah. Noah followed God and did what God wanted him to do! He lived a good life and did the right thing, even though no one else did. Along with Shelby, children learned "I Will Do The Right Thing!" from our Bible story.
Sunny's Friends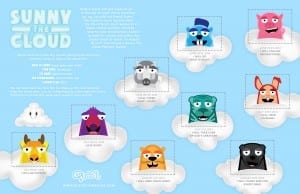 Sunny the Cloud has so much fun up in the sky so high with his friends. Each week we will meet special Quest friends up high in the sky and children can use their Sunny the Cloud poster to collect these special clouds!
Collect at least six clouds and bring the Sunny the Cloud poster back to Quest on August 16 or 17 and receive a Sunny The Cloud Memory Game!
This weekend we met Sunny's friend, the Blue Beaver. CLICK HERE to download the Blue Beaver cloud.
Memory Verse
Our memory verse during Sunny the Cloud teaches children we can show God we love Him by obeying Him and doing what He says. Children will have the opportunity to say the memory verse every weekend of the series for a Sunny pop! Our memory verse is:
This is love (cross arms over chest)
for God: (point up)
to keep (point to head)
his commands. (two thumbs up)
1 John 5:3a (NIV)