Bible Story: God Took Care Of Noah | Genesis 7:11-8:1
Main Point: I Will Have Courage!
Memory Verse: "This is love for God: to keep his commands." 1 John 5:3a (NIV)
Lesson Overview
Our sky high adventures continued this weekend as we joined Sunny the Cloud up in the clouds! We saw our friend Red Rabbit and were just in time, too, as the Two By Two cruise ship was passing right underneath Red Rabbit's cloud!

When we looked down to see what was happening on the ship, we saw our friends Sydney and Shelby playing fun games on the deck with pool toys. They were having so much fun and there were toys everywhere! Aunt Jessie saw a storm coming towards the ship and asked Sydney and Shelby to pick up all the pool toys so they didn't blow away in the storm. But Sydney and Shelby heard thunder from the storm and were too scared to pick up all the pool toys. They wanted to obey Aunt Jessie and do what was right, but they were too afraid! Due to the closeness of the storm, Aunt Jessie, Sydney, and Shelby decided it would be best to head into the cruise ship theater to watch the daily Bible story.
During the daily Bible story, we heard about Noah being on a boat for 40 days and 40 nights while God made it rain to flood the entire earth. During this time, Noah and his family became afraid. But they knew they were doing the right thing because they were doing what God wanted them to do. They had courage to obey God even though they were scared!
Sydney, Shelby, and all of us in Quest learned "I Will Have Courage!" to do what God wants us to do!
Sunny's Friends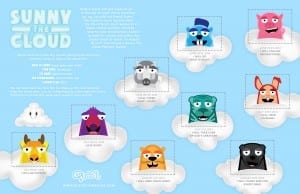 Sunny the Cloud has so much fun up in the sky so high with his Quest Animal friends. Each weekend we will meet a different Quest Animal up high in the sky and each weekend children can collect these special Quest animal clouds. Any child who collects six of the nine Quest Animal clouds and brings their Sunny the Cloud poster August 16 or 17 will receive a Sunny the Cloud Memory Game!
This weekend we met Sunny's friend, the Red Rabbit. CLICK HERE to download the Red Rabbit cloud.
Memory Verse
Quest children have been working hard to learn our series memory verse! Use the hand motions listed below to practice this verse with your child at home. Try reviewing the verse with your child during dinnertime or before bed at night!
This is love (cross arms over chest)
for God: (point up)
to keep (point to head)
his commands. (two thumbs up)
1 John 5:3a (NIV)
Children will have the opportunity to say the memory verse every weekend of the series for a Sunny pop!