Bible Story: Jesus Feeds the 5,000 | John 6:1-15
Main Point: Love Gives!
Memory Verse: "This is love for God: to keep his commands." 1 John 5:3a (NIV)
It was another beautiful day high up in the sky with Sunny the Cloud! We ran into our friend Purple Parrot flying circles around the Two by Two cruise ship. Purple Parrot told us it was LOVE WEEK and Purple Parrot was flying laps in the sky to give love to Water Missions International!

Down on the Two by Two cruise ship, Sydney, Shelby, Aunt Jessie and all the travelers were walking around the deck of the ship for a Water Walk to give love to an organization called Water Missions International. Water Missions has a goal to get clean water for families who don't have access to clean water. After learning about Water Missions, Quest had it's own walk for water to earn money so people could have clean drinking water!
God tells us to share what we have with one another, just like Jesus did when he used a small boy's lunch to feed 5,000 people. Jesus showed love to the people and fed them when they were hungry! As we served the families being helped by Water Missions, we gave love by helping people get clean drinking water. We learned "Love Gives!" by serving during Love Week and hearing our Bible story about Jesus feeding the 5,000!
Sunny's Friends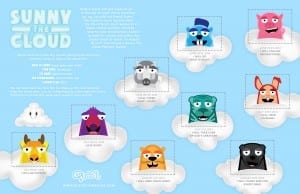 Sunny the Cloud has so much fun up in the sky so high with his Quest Animal friends. Each weekend we will meet a different Quest Animal up high in the sky and each weekend children can collect these special Quest animal clouds. Any child who collects six of the nine Quest Animal clouds and brings their Sunny the Cloud poster August 16 or 17 will receive a Sunny the Cloud Memory Game!
This weekend we met Sunny's friend, the Purple Parrot. CLICK HERE to download the Purple Parrot cloud.
Memory Verse
eKidz wants to partner with parents as children learn God's Word and we want to help make it easy for you to connect with your child about the Bible at home. Learning the memory verse we have during each series is a great way to connect spiritually with your child! This week at home, review our memory verse 1 John 5:3a with your child using the hand motions below. Try singing it together, turning it into a funny song, or downloading the memory verse background for your smartphone or computer!
This is love (cross arms over chest)
for God: (point up)
to keep (point to head)
his commands. (two thumbs up)
1 John 5:3a (NIV)
Children will have the opportunity to say the memory verse every weekend of the series for a Sunny pop!