Bible Story: Noah Left The Ark | Genesis 8:13-18
Main Point: I Will Obey Right Away!
Memory Verse: "This is love for God: to keep his commands." 1 John 5:3a (NIV)
Lesson Overview
It was a rainy day in Quest as we traveled high in the sky to meet up with our friend Sunny the Cloud. But the rain cleared up just in time and we were able to play a fun game with our friend Orange Otter! When we were finishing up our cloud game we heard the horn of the Two By Two cruise ship – it was sailing our way! Orange Otter, Sunny the Cloud, and all of Quest looked down from the clouds and saw our friends Sydney and Shelby on the deck below.
Sydney and Shelby were talking about all the fun things they were going to do on the ship when Aunt Jessie arrived with an important message. Aunt Jessie needed Sydney and Shelby to bring the message to First Mate Shelley right away! Sydney and Shelby were so excited about the fun things they were planning to do they stopped at each deck to have fun as they made their way to see First Mate Shelley on the top deck; they had a noodle fight on the Pool Deck, went down water slides, and ate yummy food at the buffet. But as they were having fun, the Two By Two cruise hit a reef hidden in the water and got stuck! To keep everyone safe, First Mate Shelley ordered everyone to head to the Two By Two cruise ship theater for the daily Bible story.
While in the theater we learned about a man named Noah. Noah was on a big boat with his family and two of every animal for a very long time! When the rain stopped and the earth was no longer flooded, God told Noah and his family to get off the boat and Noah obeyed God right away. God then told Noah to release all of the animals so they could start over and make their own families. Noah did this right away, too, because he wanted to obey God! Just like Noah obeyed God right away, Sydney, Shelby, and Quest children learned "I Will Obey Right Away!"
Sunny's Friends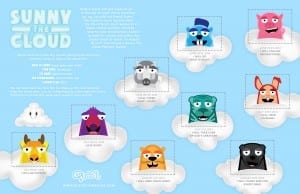 Sunny the Cloud has so much fun up in the sky so high with his Quest Animal friends. Each weekend we will meet a different Quest Animal up high in the sky and each weekend children can collect these special Quest animal clouds. Any child who collects six of the nine Quest Animal clouds and brings their Sunny the Cloud poster August 16 or 17 will receive a Sunny the Cloud Memory Game!
This weekend we met Sunny's friend, the Orange Otter. CLICK HERE to download the Orange Otter cloud.
Memory Verse
Has your child been able to say the Quest memory verse all by themselves? We love hearing Quest children recite God's Word from memory each and every weekend in eKidz. Learning scripture with your child is a great way for you to be involved in building a spiritual foundation of faith in your child.
This is love (cross arms over chest)
for God: (point up)
to keep (point to head)
his commands. (two thumbs up)
1 John 5:3a (NIV)
Children will have the opportunity to say the memory verse every weekend of the series for a Sunny pop!