Bible Story: Noah Thanked God | Genesis 8:18-9:17
Main Point: I Will Thank God For Everything!
Memory Verse: "This is love for God: to keep his commands." 1 John 5:3a (NIV)

Lesson Overview
Our friend Sunny the Cloud was waiting up high in the sky for us, but Sunny wasn't the only one up high in the sky! We saw Black Bear too, wanting to play a fun cloud game. We saw a black raspberry, a basketball, and even a cloud which looked like a rainbow!

When we looked down to check in with our friends Sydney and Shelby on the Two By Two cruise ship, we learned their cruise was almost over! It was Sydney and Shelby's last day on the cruise, but before leaving the ship, Aunt Jessie told Sydney and Shelby they should thank someone. Sydney and Shelby ran all around the ship to tell the crew of the Two By Two "thank you," but they were still missing someone. Aunt Jessie took Sydney and Shelby to the Two By Two cruise ship theater one last time so they could learn who they should thank for everything!
During the Bible story, we learned God chose to save Noah and his family when He flooded the earth. After Noah and his family spent a long time on the boat, the water finally dried up and Noah and his family got off the boat. When they got off the boat, Noah built an alter to thank God for protecting him and his family. God was pleased with Noah and made a promise to never flood the earth again. As a sign of this promise, God put a rainbow in the sky to remind everyone that He would never flood the earth again.  Sydney, Shelby, and all of Quest learned they should thank GOD for everything!
Sunny's Friends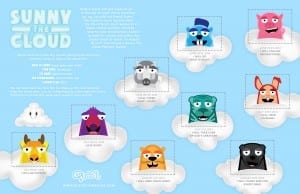 Sunny the Cloud has so much fun up in the sky so high with his Quest Animal friends. Each weekend we will meet a different Quest Animal up high in the sky and each weekend children can collect these special Quest animal clouds. Any child who collects six of the nine Quest Animal clouds and brings their Sunny the Cloud poster back to Quest THIS WEEKEND, August 16 or 17, will receive a Sunny the Cloud Memory Game!
This weekend we met Sunny's friend, the Black Black. CLICK HERE to download the Black Bear cloud.
Memory Verse
We are so proud of all the Quest children who have recited their memory verse during the series and who will recite it this weekend!
This is love (cross arms over chest)
for God: (point up)
to keep (point to head)
his commands. (two thumbs up)
1 John 5:3a (NIV)
Children will have the opportunity to say the memory verse one last time this weekend for a Sunny pop!