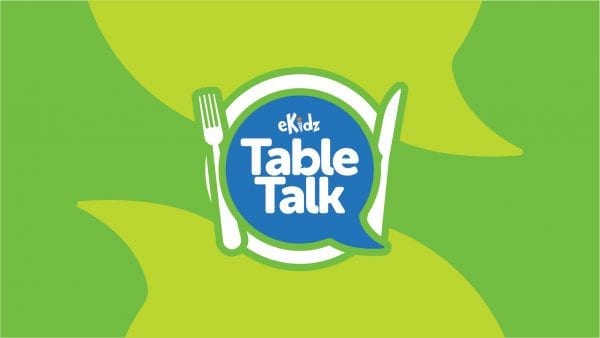 Family life is busy, so being intentional with the time you do have is more important than ever. Table Talk helps mealtime matter — whether it's at the soccer field, in the car, or around the table. Let this resource be a tool to connect your family and create faith-based conversations with your Quest and Motion children.
This weekend, we learned "Jesus can do anything." Jesus saved a wedding celebration and made lots of people happy by turning water into a "super-fancy party drink" when the hosts ran out of the drink. He can do amazing things for us, too, and He loves to do things that make us happy! Check out this week's curriculum recap here.
Question 1: Would you be able to turn water into your favorite drink? (no)
Question 2: Who is the only person who could do that? (Jesus)
Question 3: How do you know that Jesus can do anything? (Jesus turned water into wine, which is something only He can do. He can do anything!)

This weekend, we learned about the importance of guarding our hearts, or finding filters for our lives that will protect our hearts from lies and distractions. God's Word is the ultimate filter. When we read the Bible and then put what He teaches us into practice, we can ensure our hearts will stay pure. Check out this week's curriculum recap here.
Question 1: The more we listen to someone, the more we recognize their voice. If we want our hearts to recognize God's voice, what's the best way for us to learn to recognize it? (spend time in God's Word)
Question 2: What are some distractions that might keep you from spending enough time with God?
Question 3: When someone wants you to do something you aren't sure is right, how can God's Word be a filter that helps you make the right choice?