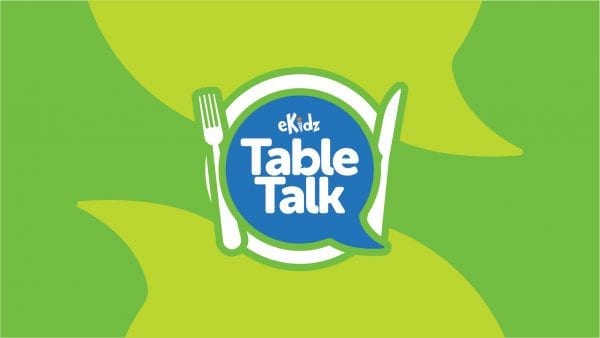 Family life is busy, so being intentional with the time you do have is more important than ever. Table Talk helps mealtime matter — whether it's at the soccer field, in the car, or around the table. Let this resource be a tool to connect your family and create faith-based conversations.

SAFARI TODDLERS
1 – 2 YEARS OLD
This month we're learning, "I can help others." When we put others first and look for ways to help, we can show them how much God loves them!
Jesus had 12 helpers who helped Him teach others about God's love. Can we help others, too? (yes)
Do we show God's love to others when we help them? (yes)
This weekend we learned Jesus gives us the power to be gentle. Jesus can help us be gentle when we talk and play with our friends and family.
Question 1: How did Jesus show gentleness to the woman in this week's Bible story (Mark 5:25-34)? How can we follow His example? (He used kind, gentle words, and we can, too!)
Question 2: When is it hard to show gentleness? (when we're mad, upset, frustrated, etc.) How can you help yourself remember to be gentle even when it's hard? 
Question 3: Gentle words help, not hurt. What are helpful words you can use?
This weekend we learned to use what we have to serve others. God can use whatever we have to do some amazing things — we just need to be willing to use it to serve others.
Question 1: What are some things you have around your home that you could use to help others? (crayons can color a card for a sick friend, a broom can clear leaves off your neighbor's driveway, etc.)
Question 2: We don't have to use physical things to help others. What are some gifts or abilities you have that could allow you to serve others? (listening, spending time with someone, smiling, making people laugh)
Question 3: In our Bible story, what the young boy brought didn't seem like much, but Jesus was able to use it to feed thousands of people. Have you ever wanted to help someone, but felt like what you could bring wasn't much? What did you do? How can you use what you have, whether it's big or small, to help others?