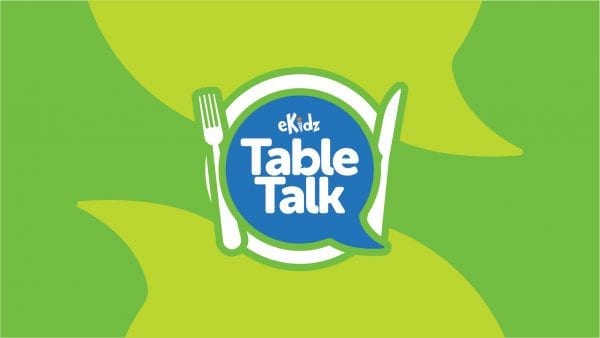 Family life is busy, so being intentional with the time you do have is more important than ever. Table Talk helps mealtime matter — whether it's at the soccer field, in the car, or around the table. Let this resource be a tool to connect your family and create faith-based conversations with your Quest and Motion children.
This weekend, we learned "I can thank God for food." Moses and the Israelites were worried because they weren't sure where they would find food, but then God provided them with exactly what they needed each day! God gives us what we need, too, including food to eat, so we can choose to be thankful. Check out this week's curriculum recap here.
Question 1: When the Israelites were traveling in the desert, they complained because they were hungry and tired. God heard them complain and gave them food. What food did God give them? (manna and quail)
Question 2: Did God give them the food they needed every day, or just one time? (every day)
Question 3: Can you thank God for the food He's given you — even the foods you don't like? (yes)

This weekend, we learned about the importance of spending time in God's Word and putting what we've learned into practice. No matter what problems we face, the Bible has solutions. When we read our Bibles and hide God's Word in our hearts, we'll be equipped to survive life's storms. Check out this week's curriculum recap here.
Question 1: Why do you think it's important to read the Bible?
Question 2: What is one Bible verse or story that has helped you in a tough situation or taught you something important?
Question 3: When you aren't sure where to start in your Bible, or when you don't understand what something means, who are some people you could ask for help?