Bible Story: Exodus 1:6-2:15; 3:1-15; 4:1-17 | Moses and the Burning Bush
Main Point: Jesus is my POWER source!
Memory Verse: "Love the Lord your God with all your heart and with all your soul and with all your mind and with all your strength." – Mark 12:30
Lesson Overview
The U.S.S. Starburst is heading home after completing it's latest space mission. But when the spaceship loses power, Sam E. Sprocket must travel through the galaxy searching for fuel stars to protect the U.S.S Starburst's power and guide the ship back home. Along the way, Sam E. will learn the real source of our power – Jesus! Let's check in to see how his first adventure went this weekend in Quest…
Space Map
Your child can follow Sam E. Sprocket and his space adventure with their own space map!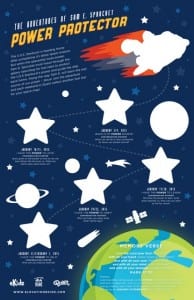 Each weekend children can collect another fuel star for their space map as we help Sam E. journey back to Earth. This weekend children collected their first fuel star – the green fuel star – while learning Jesus is my POWER source!
Memory Verse
Learning Bible verses gives us the POWER to know what God says and how to obey Him. Join us and learn this Mark 12:30 together as a family!
Love the Lord your God (hug self)
with all your heard (draw heart with fingers)
and with all your soul (fist on chest)
and with all your mind (point to head)
and with all your strength. (make muscles)
Mark 12:30
Children can recite this verse on JANUARY 31/FEBRUARY 1 for a stellar prize!