Bible Story: Mark 6:3-44 | Jesus Feeds 5,000
Main Point: I have the POWER to obey!
Memory Verse: "Love the Lord your God with all your heart and with all your soul and with all your mind and with all your strength." Mark 12:30
Lesson Overview
Sam E. Sprocket was able to guide the U.S.S. Starburst back home, but not before the ship's purple fuel stars were depleted! Meep helped Sam E. and the children learn a special Bible story about our POWER to help to get the ship back on track and finally home!
Space Map
During this series, children followed Sam E. Sprocket and his space adventure with their own space map!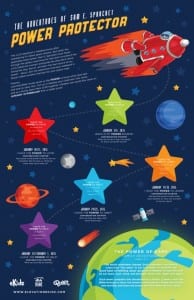 Each weekend children can collect fuel stars for their space map as we help Sam E. journey back to Earth. This weekend children collected their fifth fuel star – the purple fuel star – while learning I have the POWER to help!
Miss any of Sam E. Sprocket's space adventures? Print the fuel stars below and help your child glue it to their space map! 
Green Fuel Star (January 3/4) 
Red Fuel Star (January 11/12) 
Pink Fuel Star (January 17/18)
Blue Fuel Star (January 24/25)