Bible Story: Acts 4:32-37 | The believers share everything
Main Point: Teammates Share!
Memory Verse: "Two people are better than one. They can help each other in everything they do." Ecclesiastes 4:9 (NIrV)
Lesson Overview
It wouldn't be anther weekend with the Animal Adventurers Troop 49 without another adventure! We explored the great outdoors on our quest to earn our fourth animal adventure badge. So far in our adventures, Troops have earned the Red Rabbit badge, the Yellow Yak badge, and the Orange Otter Badge. Through Troop Master Mickey's training and from stories in the Bible, Troop 49 continues to earn badges by learning how working together as a team is better than working alone.
Troop Master Mickey challenged Troop 49 to another adventure to earn their fourth Animal Adventurer badge, the Green Gorilla badge.
After Troop Master Mickey told Troop 49 their mission, children joined the troop to make and eat a s'more. See if Troop 49 was able to share as they made this yummy snack!
Everyone on Troop 49 shared (including Barry!) and were able to make and eat mini s'mores to earn their Green Gorilla badge. We checked back in with Troop Master Mickey to celebrate with our teammates for learning "Teammates Share!"
Troop 49 Animal Adventurer Badges
During The Animal Adventurers series, Quest children will become part of Troop 49! Each week children attend Quest, they will earn a different Quest Animal Adventurer badge. This weekend children earned the fourth Animal Adventurer bade – the Green Gorilla badge – by learning how to be great teammates by sharing the snack supplies so everyone could make a s'more. We learned how to share by reading a Bible story about how the believers who followed Jesus shared everything they had to make sure everyone was taken care of.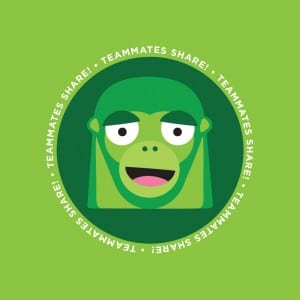 Download this week's Troop 49 Adventure Guide for coloring pages and eKidz at Home activities to complete with your child.
Memory Verse
Our memory verse during The Animal Adventurers teaches children the importance of teamwork:
Two people (hold up two fingers)
are better than one. (hold up one finger)
They can help each other (two thumbs up)
in everything they do. (spread arms wide)
Ecclesiastes 4:9 (NIrV)
Join us in helping your child lean this verse. Use the Family Memory Verse Activity on page 7 in the Troop 49 Adventure Guide and encourage your entire family to learn Ecclesiastes 4:9!
During the last weekend of the series, September 27/28, children can recite our memory verse to earn an Animal Adventurers Troop 49 bandana!