Bible Story: Acts 6:1-7 | Food for Widows
Main Point: Teammates Help!
Memory Verse: "Two people are better than one. They can help each other in everything they do." Ecclesiastes 4:9 (NIrV)
Lesson Overview
Troop 49 has been learning to work together as a team under Troop Master Mickey's instruction. We've joined Troop 49 the past few weeks in the great outdoors to earn four Animal Adventurer badges, and this weekend Troop Master Mickey challenged us and Troop 49 to earn the Blue Beaver badge.
After Troop Master Mickey told Troop 49 their mission, children joined the troop to make a tent. See if Troop 49 was able to help each other on this adventure!
Because all members of Troop 49 helped each other build a tent, the troop earned the Blue Beaver badge. Through Troop Master Mickey's training and a story in the Bible, Troop 49 learned that "Teammates Help!" and working together as a team is better than working alone!
Troop 49 Animal Adventurer Badges
During The Animal Adventurers series, Quest children will become part of Troop 49! Each week children attend Quest, they will earn a different Quest Animal Adventurer badge. This weekend children earned the fifth Animal Adventurer badge – the Blue Beaver badge – by learning how to be great teammates by working together to build a tent. We learned we should help each other just like the disciples helped take care of widows in our Bible story!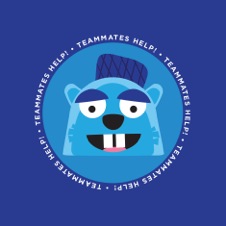 Download this week's Troop 49 Adventure Guide for coloring pages and eKidz at Home activities to complete with your child.
Memory Verse
Our memory verse during The Animal Adventurers teaches children the importance of teamwork:
Two people (hold up two fingers)
are better than one. (hold up one finger)
They can help each other (two thumbs up)
in everything they do. (spread arms wide)
Ecclesiastes 4:9 (NIrV)
Join us in helping your child lean this verse. Use the Family Memory Verse Activity on page 7 in the Troop 49 Adventure Guide and encourage your entire family to learn Ecclesiastes 4:9!
During the last weekend of the series, September 27/28, children can recite our memory verse to earn an Animal Adventurers Troop 49 bandana!