Bible Story: Luke 15:11-24 | The Prodigal Son
Main Point: Teammates Celebrate!
Memory Verse: "Two people are better than one. They can help each other in everything they do." Ecclesiastes 4:9 (NIrV)
Lesson Overview
Quest children joined the Animal Adventurers Troop 49 on one more adventure in the great outdoors this past weekend! Troop Master Mickey challenged Troop 49 to earn their sixth and final Animal adventurer badge, the Purple Parrot badge.
After hearing from Troop Master Mickey, we joined Troop 49 their adventure to climb The Great Big Mountain!
Troop 49 worked together as a team to hike to the top of The Great Big Mountain and everyone earned the Purple Parrot badge! Earning the Purple Parrot Badge was tough, and not many troops had earned it before, but through Troop Master Mickey's training and from the Bible story, Troop 49 was able to celebrate each other during the hike to earn their badge!
Troop 49 Animal Adventurer Badges
During The Animal Adventurers series, Quest children became part of Troop 49! Each week children attended Quest, they earned a different Quest Animal Adventurer badge. This weekend children earned the sixth and final Animal Adventurer badge – the Purple Parrot badge – by learning how to be great teammates by working together to climb to the top of The Great Big Mountain. We learned we should celebrate each other just like the father celebrated the returning of his son in our Bible story!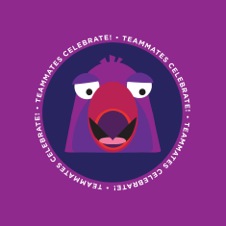 Download this week's Troop 49 Adventure Guide for coloring pages and eKidz at Home activities to complete with your child.