Bible Story:  Esau Forgives Jacob | Genesis 33:1-10
Main Point: I Will Say I'm Sorry!
Memory Verse: "Whatever you do, do it all for the glory of God." 1 Corinthians 10:31 (NIV)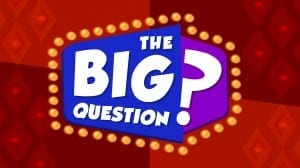 Lesson Overview
Game contestants Fernando, Tuttle Turtle, and Abee Queen not only answered questions and earned points while competing on The Big Question, they also heard a Bible story and figured out the answer to Guy Handsome's big question!
This weekend's BIG QUESTION was:
SHOULD I SAY I'M SORRY?
During the physical challenge, contestants had to carry a bucket of balls across the stage to the finish line. All the contestants bumped into each other and no one finished the physical challenge. Guy Handsome wanted everyone to say "I'm sorry!" to each other, but no one did! Guy decided to share the Bible story about Jacob and his brother Esau. Jacob did a foolish thing when he tricked his brother Esau, and because of that he had to move away.
Years later, Jacob was returning home and heard Esau was coming to meet him. Jacob became very afraid and decided to send gifts to Esau to say "I'm sorry." When Esau met Jacob, Jacob said he was sorry for what he had done. Esau forgave Jacob and from our Bible story we learned "I Will Say I'm Sorry!" and the answer to the BIG QUESTION: yes, we should say I'm sorry!
MEMORY VERSE
During The Big Question, children will be learning a memory verse about how they can glorify God in everything they do! Children can recite this verse next weekend in Quest (the weekend of April 12/13) for a prize!
Below are the hand motions we are using each weekend to teach this verse to children. Try them at home this week to help your child learn the verse.
Whatever you do, (point out)
do it all (circle hands over head)
for the glory of God. (point up)
1 Corinthians 10:31 (NIV)