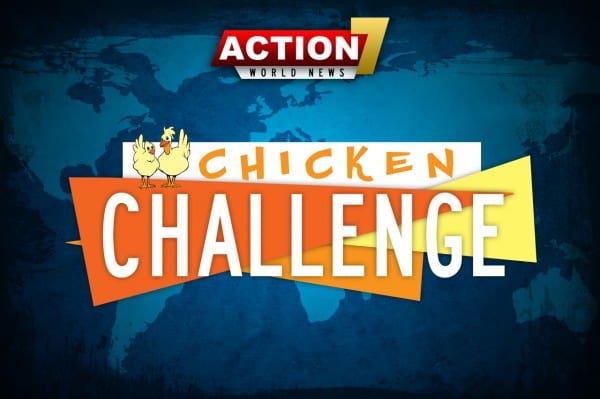 This past weekend Quest kids (ages 3 years – kindergarten) joined the Action 7 World News team to learn about the good news of Jesus!
Over the next four weekends we are encouraging Quest kids to participate in the Action 7 World News Chicken Challenge where they will have an opportunity to make an impact on the other side of the world!
In eKidz, we teach kids to give, save, and spend their money: to give God their first 10%, save the next 10%, and spend the rest.  In Quest, kids have the opportunity each weekend to give an offering to God and we celebrate by clapping and dancing together!
During the Chicken Challenge, all the offering collected in Quest over the next four weekends will be used to send baby chickens to Africa through Samaritan's Purse, one of Elevation's Outreach Partners.  These chickens will provide a source of nutrition and income to bless a household in need.
Each weekend Quest kids will receive a chicken to put on their Chicken Challenge Map.  On the back of the chicken is a family activity about generosity and giving to God.
If you have a child in Quest, we hope that your family is able to participate in this great opportunity to teach your child to be generous and help others in need!
RESOURCES:
Action 7 World News Chicken Challenge Map
Chicken Challenge Week 1 Chicken
Learn more about giving at Elevation Church