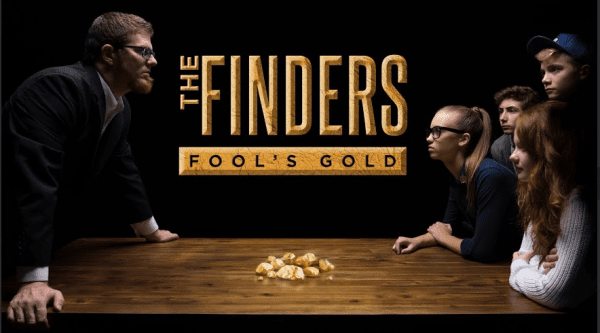 Series Memory Verse: Whoever can be trusted with very little can also be trusted with much, and whoever is dishonest with very little will also be dishonest with much. Luke 16:10 (NIV)
Main Point: Doing what you are supposed do by following directions.
Bible Story: Noah Follows Directions, Genesis 6:5 – Genesis 9:17
This weekend we began our brand new series, the fourth in our Finders storyline, called The Finders: Fool's Gold! After the mysterious appearance of Goldman at the end of the last Finders series, the Finders are trying to track him down. Check out episode one here:
Hannah had been given clear directions by her uncle to take care of his bakery. She let her obsession with finding Goldman distract her from her responsibilities. We then read in Genesis about Noah, who was given clear directions by God to build an ark to save his family and some animals from the flood. Noah did not let the mocking of his neighbors distract him from his responsibility and he completed the task, allowing for the continuance of the human race and countless species of animals.
In our lives, no matter our age, we all have our own responsibilities that have been given to us. Many times, we will face distractions that could keep us from fulfilling our responsibilities but we need to find ways to follow directions and do what we are supposed to do.
Come back next week to watch as the Finders continue to track Goldman and Hannah tries to balance that with her responsibilities at the bakery. Also make sure to CHECK OUT our trading cards and trading card game, a unique and awesome way to engage with this series.