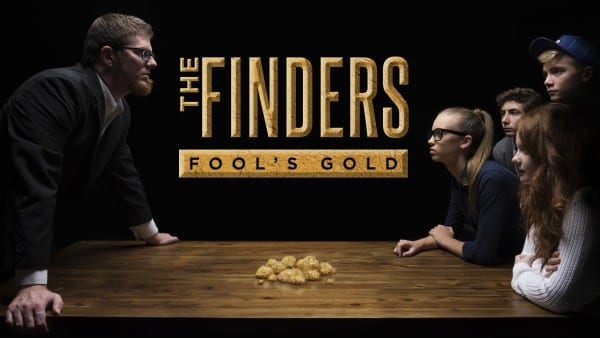 Series Memory Verse: Whoever can be trusted with very little can also be trusted with much, and whoever is dishonest with very little will also be dishonest with much. Luke 16:10 (NIV)
Main Point: Doing what you are supposed do by keeping your word.
Bible Story: Daniel and the Lions' Den, Daniel 1:1-4; 6
The Finders are hot on Goldman's trail but someone broke into Uncle Xander's bakery and tied him up! Find out what happens in episode two of The Finders: Fool's Gold!
Hannah, Zack, and Caleb were able to free Uncle Xander but the thief had stolen the assimilation ray and now they must formulate a plan to get it back and hopefully get one step closer to finding Goldman.
We saw today how Hannah's lack of responsibility really cost her uncle and The Finders. She had given her word that she would take care of the bakery but when she didn't keep her word, it hurt everyone. A big part of being responsible is keeping your word. We read in the Bible how Daniel had given his word for how he was going to live and he showed responsibility by keeping it, even when it looked like it would cost him his life.
Talk with your family about things that you've given your word on and if you showed responsibility by keeping it. Pray together, asking God to give you the ability to show responsibility by keeping your word. Come back next week to see what happens next in Fool's Gold!
Also make sure to check out our trading cards and trading card game, a unique and awesome way to engage with this series.