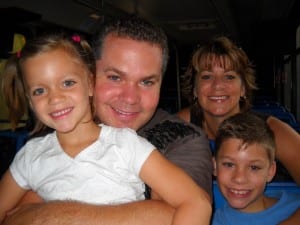 My name is Barbara Urch and I am the eKidz Director at our Elevation University location. I have been married to my wonderful husband for over 14 years and we are blessed with a son named Logan (10) and a daughter named Kailey (6).
My family has been attending Elevation since February 2008.  Two weeks after first attending I jumped into volunteering in eKidz.  In the past 4 years of volunteering at Elevation, something that has changed the way I serve is a teaching called the "One Day Principle."
The "One Day Principle" is simple but profound.  Based on Acts 3:1-10, the principle asks the question 'if today were the one day that a person who is far from God were to come through the doors of Elevation Church, what would you want him or her to experience?'
This principle shaped how I viewed serving as a volunteer, and now as the eKidz Director at the University location; it's shaped how I serve kids and families each weekend.
Every weekend we have a one day opportunity for the kids in eKidz . . .
. . . for a 5th grade boy to realize he is made for something bigger and God has a special purpose for his life!
. . . for a 5-year-old to want to give part of their birthday money to the offering in Quest as a way to worship God!
. . . or for a family to be greeted with a smile and feel immediately welcome at church for the first time in years!
I am so excited for the opportunity we have each weekend in eKidz to engage kids and empower families – to create a one day experience where kids learn about Jesus and are shown His love!