We've been zipping, twisting, and turning through the Bible as we learn to live for God at Animal Adventureland! Park owner Rosie Rider has created each ride at the park to teach us how to live for God. This past weekend, we saw the grand opening of the Peach Penguin Popsicle Stand.
Rosie created the Peach Penguin Popsicle Stand because she wanted everyone to know that God cares for them! Our parents care for us, and God cares for us too! When it's a hot, sunny day in the park Rosie wanted everyone to grab a popsicle to cool off and be reminded how much God cares for us!

The Peach Penguin's favorite summer treat is a popsicle! Make these delicious popsicles with your kids and maybe even open your own popsicle stand!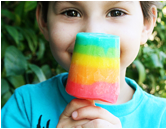 RAINBOW PUDDING POPSICLES from Sandy Toes and Popsicles
INGREDIENTS
2 – large boxes (5.1 oz) instant pudding mix (light colored)
milk
food coloring
Dixie Cups (5 oz.)
popsicle sticks
DIRECTIONS
Prepare pudding according to the directions. (You may need to add a little more milk to make the pudding pourable.) Let pudding stand until it has thickened a bit. Divide into 5 parts and color each part with food coloring. Layer each color of pudding into small dixie cups. Cover with tin foil. Insert popsicle sticks. Chill in refrigerator 2 hours, then place in freezer to completely freeze.
To eat, peal off dixie cup paper and enjoy your pudding pop! Makes 10 – 12 popsicles.

LEMONADE POPSICLES from Cooking With My Kid
INGREDIENTS
1 cup fresh squeezed lemon juice
4 cups warm water
1/3 cup sugar
1/4 cup agave nectar
1 package gummy fruits
8 to 10 popsicle molds (or 5 oz. Dixie Cups and popsicle sticks)
DIRECTIONS
Dissolve sugar in water and whisk well. Add lemon juice and agave. Continue to whisk until completely combined. It should be very sweet. (If it's not sweet enough, it will get bitter when frozen.) Pour liquid into popsicle molds and drop a gummy fruit into each mold. Cover and freeze. Make sure they are frozen all the way through before removing from molds – it takes a bit longer with the gummy inside. Run fully frozen popsicle molds under a little warm water before pulling out pops.

NUTELLA FUDGESICLES from Inhabitots
INGREDIENTS
1.5 c. Chocolate Milk
1/2 c. Nutella
ice pop molds (or 5 oz. Dixie Cups and popsicle sticks)

DIRECTIONS
Whisk together the chocolate milk and Nutella until mixed uniformly. Chill mixture for at least two hours. Pour into ice pop molds or dixie cups and insert popsicle stick. Freeze until firm.
CLICK HERE for the Quest Weekend Wrap-Up.