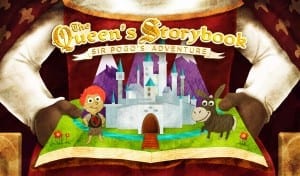 Bible Story: Jonah 1:1 – 3:3
Main Point: I will do what is right!
Memory Verse: "Finally, let the Lord make you strong. Depend on his mighty power. Put on all of God's armor. Then you can remain strong against the devil's evil plans." Ephesians 6:10-11
Dear princes and princesses of the Royal Land,
What fun we had at the castle hearing another story from my Storybook. This weekend's story was about Sir Pogo the knight and Darrin the Daring Donkey and their quest to collect the second piece of the armor of God. During their adventure they found a man named Howard in search of his hat. Even though Sir Pogo and Darrin knew where the hat was, they decided not to tell Howard, but keep the hat instead. After Howard left, a Messenger came with a message of great importance from the Queen. It was a letter about Jonah from the Bible!
God told Jonah to go to the city of Nineveh. Jonah did the wrong thing and went the opposite direction of what God said! God sent a storm and a big fish to swallow Jonah. Jonah was in the belly of the fish for three days when he prayed to God for help. Jonah decided to do what was right – what God told him to do! The big fish spit Jonah onto dry land and God said to Jonah, "Go to Nineveh." This time, Jonah did what was right and obeyed God!
Sir Pogo and Darrin learned to do the right thing, just like Jonah did when he listened to God and went to Nineveh. Sir Pogo and Darrin did the right thing and found Howard to give him his hat back! Because they did the right thing, Howard gave them the chest plate of righteousness!
Knights would wear a chest plate to project their hearts from getting hurt. When we do the right thing, it protects our hearts just like a chest plate protects a knight's heart! Remember princesses and princesses, you should always do the right thing!
And don't forgot – only six more weeks until the Royal Ball! It's going to so much fun celebrating with you! See you next weekend at the castle for another story about Sir Pogo and Darrin the Daring Donkey!
Have a royal week,
The Queen
COLLECTIBLE

Each week your child will come home with another knight to add to their Hall of Knights poster. Once their poster is complete with four knights, your child can bring it back to Quest and receive a prize from the Queen's royal treasure chest!
MEMORY VERSE
Join us in helping your child learn Ephesians 6:10-11! If your child comes back with this verse memorized, they will receive their own storybook from the Queen, filled with the adventures of Sir Pogo and Darrin the Daring Donkey.
Finally, let the Lord (point up)
make you strong. (make muscles)
Depend on his mighty power. (shout POWER and shoot fist in air)
Put on all of God's armor. (hands on hips)
Then you (point out)
can remain strong (cup hands around mouth and repeat 'strong' three times)
against the devil's evil plans. (tap fingers together like a villain)
Ephesians 6:10-11
Learning this verse helps us learn how to be better leaders, like those in the Bible stories we read each week. Practice your verse with your prince and princess, then ask him or her to Remember, Think, and Follow to review what we learned this weekend:
1. Remember: Who was our Bible story about? (Jonah)
2. Think: When he was in the belly of the fish, what did Jonah do after he realized it was the wrong thing? (prayed to God because he didn't do the right thing)
3. Follow: Can you do the right thing like Jonah? (Yes!)