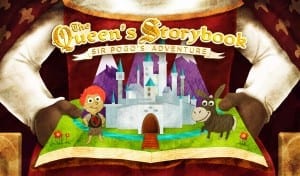 Bible Story: Luke 1:26-55 | Song of Mary
Main Point: I can thank God for what I have!
Memory Verse: "Finally, let the Lord make you strong. Depend on his mighty power. Put on all of God's armor. Then you can remain strong against the devil's evil plans." Ephesians 6:10-11


Dear princes and princesses of the Royal Land,
Sir Pogo and Darrin's journey is almost over, but they are missing one of the Gloves of Prayer. As they searched and searched, Sir Pogo and Darrin received a message from the Queen to return back to the castle. Sir Pogo was upset he didn't find the second glove of prayer and didn't want to see the Queen without all of the armor!
As Sir Pogo was telling Darrin and the castle guard he wasn't going in to see the Queen, a royal messenger arrived with a special message from me. This message was about Mary from the Bible. God blessed Mary and chose her to be Jesus's mom! Mary was so excited she sang a song to thank God. After she became Jesus' mom, she thanked God for what she had.
The Bible story helped Sir Pogo and Darrin learn to thank God for what they had and all the armor they were able to find! They collected the Belt of Truth, the Chest Plate of Righteousness, the Shoes of Peace, the Shield of Faith, the Helmet of Salvation, the Sword of the Spirit, and one of the Gloves of Prayer. They prayed and thanked God for helping them find these pieces of armor on their adventures. Because Sir Pogo thanked God for what he had, and came into the castle to see me, I was able to give him the second Glove of Prayer!
After collecting all of the pieces of armor, I held a Royal Ball at my castle to celebrate with all of the Quest princes and princesses – merriment was had by all at the Queen's Royal Ball! We danced together and thanked God for all He's given us and all the fun we've had learning stories from the Bible and growing stronger in our faith!
Thank you to everyone in the royal land for celebrating with me and joining me on Sir Pogo's adventure!
The Queen
Children received their final knight to add to their Hall of Knights poster. If a child has collected four knights, they can bring it back to Quest this weekend (November 7/8) and receive a prize from the Queen's royal treasure chest!
REMEMBER, THINK, FOLLOW
Ask you prince or princess to Remember, Think, and Follow to review what we learned this weekend:
1. Remember: Who did we learn about in our Bible story? (Mary)
2. Think: What did Mary do to show she was thankful to God? (sang a song)
3. Follow: Can you follow Mary's example and thank God for all He has given you? (yes)