We believe that kids are capable of far more than we give them credit for. And they also have the ability to follow God in simple obedience in a way that puts adults to shame. Check out this story from some kids who were part of a team of Elevators that were serving as part of our 30 Days of Thanks initiative:
Jacob Castles, his cousin Andrew, and their families joined some other incredible Providence volunteers to serve breakfast to those waiting in line at Crisis Assistance Ministries (to learn more about our outreach partners check out our website). Although the weather has been unseasonably warm it called for a light jacket today, especially at 7:30am. I watched as these 2 young men passed out biscuits and donuts, smiled, and joked with the people in line.
Later Jacob said, "You know, I really would like to know what these people really need and then give that to them." I explained to Jacob and his cousin that the Bible tells us that we are to give what we have, and that this morning they were being really generous to give their time and their energy to the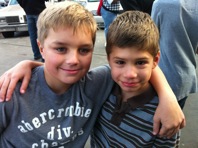 people who were waiting to be helped, and both boys seemed somewhat content with the part they were playing in serving our community.
Without anyone prompting them, these boys removed their jackets and took off back down the line to find some kids their age that might need them because, as they said later, "we have lots of jackets at home and they might not have any."
5 minutes later they returned jacketless…
When was the last time you gave someone the shirt off your back? For most of us sadly the answer is never but for these two boys they can legitimately say, "Yesterday!"
Good job boys. Keep setting the example for all of us.
eKidz Staff
– Engaging kids and empowering families