Spring is in the air . . . flowers are blooming, the sun is shining, even the birds are tweeting!
And speaking of tweeting, tweeting is one way that eKidz loves to keep parents and families connected to what's happening in eKidz!
Have you joined Twitter?  It's a fun way to stay connected with family, friends, churches, organizations, and even favorite restaurants or retail stores.  Check out some of the eKidz tweets as well as what people are tweeting to eKidz:
@eKidz says: Hey @eKidz volunteers-check out the @eKidz blog today about the #7mileprayerwalk going on at YOUR campus. Come join us! elevationeKidz.com
@wdbrady says: @eKidz my son loved DAY 1…can't wait to read and tattoo tonight! Must do family devotional again! #Motion
@LizDanko says: Read about how our @eKidz & @eStudents have been stepping up to serve our city & see how you can get involved this week http://elevationoutreach.com/
@stephanievanalen says: So helpful to have this @eKidz post today http://elevationekidz.com/posts/weekend-wrap-up-22/ Really wasn't sure what the big hand was & Breeley wasn't telling me
@Jennica_Krebs says: Loved doing outreach with @eKidz Motion today! Their enthusiasm and willingness to serve was awesome!
@tonyanuzum says: Redi whip ran out on last smoothie. J said he would take it. When asked why he quoted Philippians 2:3 Thanks @eKidz!
@ekidz says: See what Pastor @stevenfurtick had to say to your #Motion child this past weekend in @eKidz about the #MarkedDevotional- [http://elevationekidz.com]
You can follow eKidz on Twitter!  Go to http://twitter.com/eKidz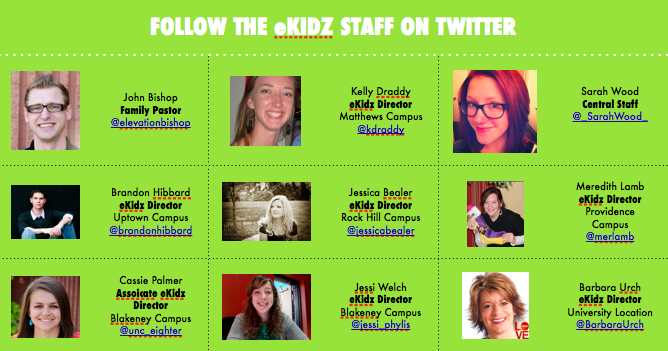 Sign-up for a twitter account and stay up-to-date on what's happening in eKidz.  Go to https://twitter.com/