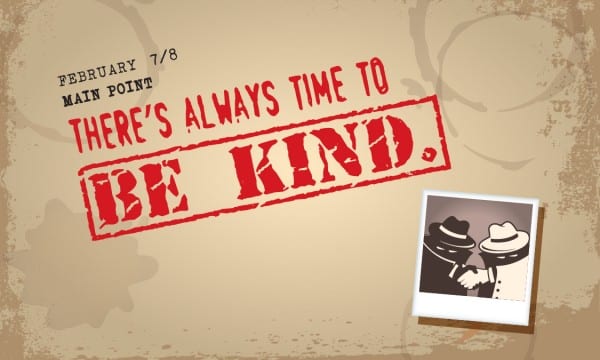 Series Memory Verse: Luke 6:31, "Do to others as you would have them do to you."
Bible Story: Jesus and the Children, Mark 10:13-16
Main Point: There's always time to be kind.
This month we are partnering with our friends at Orange and using their series Undercover Kindness. It got off to a great start this week as we learned that there's always time to be kind. We read how Jesus took the time to be kind to the children around him, even though he was very busy.
In our lives, it's unfortunately true that kindness is often one of the first things to be discarded when we get busy. We can learn a lot from Jesus' example of how he always took time to show kindness and compassion to those he encountered. Pastor Steven says that our greatest opportunities for ministry are often disguised as inconveniences.
Talk with your family about ways that you can remind yourselves to be kind to those around you and pray that God would give you his eyes to opportunities to share his love.
If your child attended Motion this past weekend, he or she received a "Kindness Cube." Throughout the month, as you see people committing acts of kindness, write them on a slip of paper and put them in the Kindness Cube. Then, at the end of the month, take some time to open the cube and review all the amazing stories of kindness from the month.