Series Memory Verse: Luke 6:31, "Do to others as you would have them do to you."
Bible Story: Ruth and Boaz, Ruth 1-2
Main Point: Be kind to your family and friends.
Our family and friends take great care of us and show us more kindness than anyone else. A lot of times we forget to show those closest to us kindness. It's easy to take them for granted, but we should show them kindness in return. God wants us to treat others the way we want to be treated, and that means treating our family and friends with kindness.
This month we are partnering with our friends at Orange and using their series Undercover Kindness. This weekend your child learned the importance of being kind to their family and friends. Your child heard the story of Ruth and Boaz. It's such an amazing story! Take time to read it again this week with your child. Use this month's Motion Your Time Card to start a discussion with your family about kindness.
Prayer Time: Pray with your child and ask God to help each of you to be kind to your family and friends. Here is a prayer you can use to guide you in prayer time this week: "Dear God, please show us how to love our family and friends with kindness that honors You. Teach us how to show others they are valuable by how we treat them, especially as we choose to be kind to our families and friends. In Jesus' name, Amen!"
Kindness in Action: When you are kind to your family and friends, you show them how valuable they are and how you love them no matter what. God has called us to kindness. It's one way we can be more like Him. Encourage your child to do one thing every day to show kindness to a family member and friend.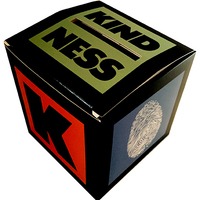 Kindness Cube: If your child has attended Motion during this series, he or she received a "Kindness Cube." If you are checking things out from far away, any box will do. You can decorate an old shoe box or tissue box to act as your Kindness Cube. Throughout the month, as you see your family members committing acts of kindness, write them on a slip of paper and put them in the Kindness Cube. Then, at the end of the month, take some time to open the cube and review all of your family's amazing stories of kindness.