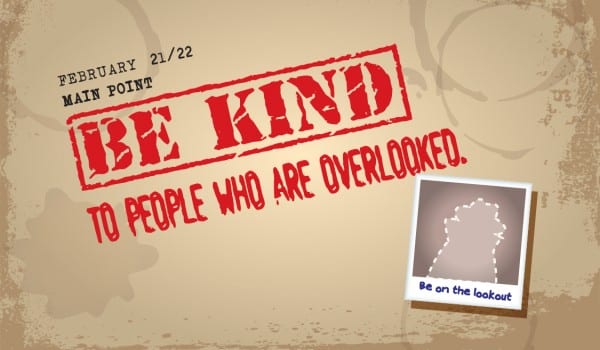 Series Memory Verse: Luke 6:31, "Do to others as you would have them do to you."
Bible Story: The Least of These, Matthew 25:35-40
Main Point: Be kind to people who are overlooked.
This weekend in Motion your child learned the importance of being kind to those who are overlooked. Jesus said when we show kindness to those who are hungry, thirsty, cold or lonely, we show kindness to Him. Showing kindness to those who usually go unnoticed is something Jesus has instructed us to do. Use this month's Motion Your Time Card to start a discussion with your family about showing kindness.
Prayer Time: Pray with your child and ask God to give you opportunities to help those who are overlooked. Here is a prayer you can use to guide you in prayer time this week: "Dear Jesus, thank You for loving us and not overlooking us when You died on the cross for us. Help us this week to show kindness to everyone. Help us to focus on those who usually get overlooked. We love you. Amen."
Kindness in Action: When you are kind to those who are overlooked you are showing them the kindness of Jesus. Encourage your child to pray for those who are overlooked. Another way to show kindness to those who are overlooked is by serving. Visit the Elevation Outreach website to sign up for an event! Be sure to click on the family friendly outreach opportunities option on the left hand side of the page.