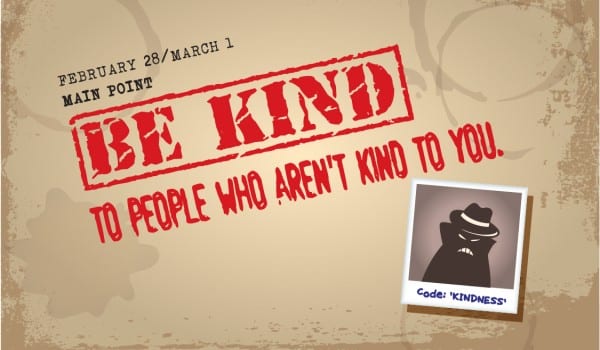 Series Memory Verse: Luke 6:31, "Do to others as you would have them do to you."
Bible Story: Barnabas and Saul, Acts 9:26-30
Main Point: Be kind to people who aren't kind to you.
What do you normally do when someone isn't kind to you? Do you compliment them or help them in some way? For most of us that's not our first reaction, but God wants us to be kind to everyone, including those who aren't kind to us.  Because Barnabas and Ananias chose kindness, Saul went on to become the Apostle Paul. God used Paul to change the world by spreading the good news about Jesus. When we are kind, we show others they are valuable to God. It won't always be easy but with God's help, we can do it!
Prayer Time: When your child is treated unkindly, have him or her pray about the situation. Your child can ask God for peace and understanding and help to react in a kind way. Use this prayer as a guide: "Dear Jesus, thank you for always loving us and showing us how important we are to You. Help us to be kind to people who aren't kind to us and help us to show others they are valuable by how we treat them. Give us the words to say and the strength to act in a way that is kind. We love you. Amen."
Kindness in Action: When your child has been treated unkindly, teach him or her to show kindness by being patient instead of being easily angered. When your child gets in one of these difficult situations, remind him or her of our memory verse, Luke 6:31, and God's command to love others, 1 Corinthians 13:4-7. Encourage your child by explaining when he or she responds with kindness in these situations, they demonstrate God's love.
Join us next week for the start of our new series, Eliminator!