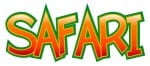 Monthly Focus: God Wants Me to Share
Bible Story: Jesus Feeds 5,000 :: John 6:1-14
Weekend Activity: Loaves and Fish necklace
Use the Loaves and Fish necklace your child made this weekend to reinforce the Bible story: one boy shared his lunch with Jesus and Jesus used it to feed 5,000 people.  Your toddler learned God wants me to share!   Have your child wear their necklace while you sing the song, Fish and Loaves:
Fish and Loaves
(to the tune "Happy Birthday")
One boy had two fish,
(hold up 2 fingers)
And five loaves of bread.
(hold up 5 fingers)
He shared them with Jesus,
(hold both hands out, palms up)
Lots of people were fed.
(wiggle fingers to indicate many people)
As you sing, point to the two fish and five loaves of bread on their necklace.
WEEKEND RESOURCE:  Loaves and Fish Necklace
Main Point: Friends Put Others First!
Bible Story: Genesis 13:8-12
Lesson Overview: We traveled to the Spy City Bakery this past weekend with Agent O and saw two residents of Spy City, Robby and Derek fight over who would get the last cupcake at the bakery. But once they heard the Bible story about Abraham letting Lot chose land first, Derek decided to let Robby have the last cupcake!
Quest children collected their second evidence photo to glue in the Spy Folder they brought home last weekend. As you help your child glue the evidence photo to the folder, take a few minutes and ask your child a  few questions about what they learned this past weekend:
What was the main point? Friends Put Others First!
How did Derek put Robby first at the Spy City Bakery? Derek let Robby have the last cupcake.
What did Abraham let Lot do when he put him first? Choose the land he wanted to live on first.
Memory Verse: Continue to review the memory verse for the Spy Chase series with your child:
"A friend loves at all times." – Proverbs 17:17a
Say the verse out loud, and have your child repeat the verse after you.  Each time you say the verse, use a different voice – silly voice, opera voice, underwater voice, loud voice, robot voice, squeaky voice, or princess voice.
WEEKEND RESOURCE: Evidence Photo Week 2 coloring picture

Monthly Virtue: Obedience – choosing to do what's asked of you
Bible Story: Luke 2:41-51
Lesson Overview:  Jesus and his parents traveled to Jerusalem for the Feast of Passover.  Mary and Joseph, their friends and family, left the Feast of Passover and spent a day walking back home.  Mary and Joseph realize Jesus is not with them and return to look for him in Jerusalem, and searched for Jesus for 3 days.  They went to the temple courts where they found Jesus.  Jesus returned home and was obedient to Mary and Joseph.
This week, encourage your child to use the GodTime card he or she received this weekend to learn about four people who obeyed God when it wasn't easy.
WEEKEND RESOURCE: Week 2 GodTime Card