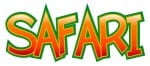 Monthly Focus: God Wants Me to be a Friend
Bible Story: Ruth and Naomi :: Ruth 1:15-18
Weekend Activity: "My Friend and I" picture craft
As we learn about friendship this month, a fun way to teach your child about friendship is to show them pictures of their friends and remind them why they are friends. This weekend your child decorated a 'My Friend and I' picture craft in eKidz.
With your child's help, choose a picture of your child and one of their friends to place in the picture frame and place the frame in their room where he/she can see it. Every time your child sees the picture ask them, "Who is your friend in that picture? Why are you friends?" Say, "God wants us to be friends. I'm so happy you are a good friend to _______."
Weekend Resource: "My Friend and I" picture craft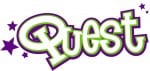 Bible Story: Matthew 21:6-9, Triumphal Entry into Jerusalem
Lesson Overview: Breaking news! Action 7 World News is on air for some late-breaking, action-packed, Good News! It's the biggest story to ever hit the headlines! Stay tuned during our new 8 week series as we will learn all about the life of Jesus.
This past weekend in Quest, kids watched our Action 7 News team report on the story of Jesus' Triumphal entry into Jerusalem. Our reporters helped teach children the different ways we can worship Jesus, and children learned "I will worship Jesus!"  We learned you can worship Jesus by praying, reading your Bible, singing worship songs, and going to church.
At home this week, make a list of these different ways your child can worship God. Once your child has completed one of the ways, allow him/her to check it off their list. Continue to do this until all of the items are checked off!
Over the next 8 weeks, help your child learn our Quest memory verse:
"And surely I am with you always, to the very end of the age." – Matthew 28:20b
Stay tuned as your child learns about the life of Jesus throughout March and April!

Monthly Virtue: Humility – Putting others before yourself.
Bible Story: Humility Towards Our Peers :: Proverbs 27:2
Lesson Overview:  This weekend we learned that we should be careful not to think too highly of ourselves.  In our March Madness episode we saw Matt praise himself  for all of his "great' basketball moves.  Proverbs 27:2 says, "Let another praise you, not your own lips."  It's important for us to remember that when we do things we should not brag about them or think we are better than someone else, but instead we should have an attitude of humility.  It's okay to be gifted and talented, but just remember that your gifts and talents were given to you by a great and gracious God.
We are having a lot of fun this month with the basketball series, and we want YOUR FAMILY to have some basketball fun and show your family team spirit!
We want to see how much basketball team spirit YOUR family has . . . maybe you are a Tar Heels fan and bleed Carolina blue, or a Duke fan and prefer a darker shade of blue. It doesn't matter what team you support, we want to see your family basketball team spirit!
Even the eKidz staff has basketball team spirit – check us out!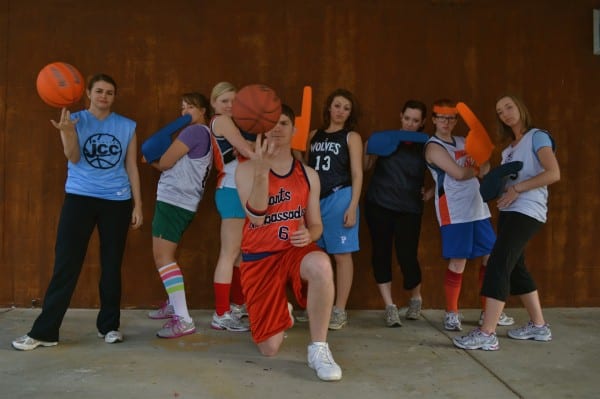 The March Madness Fan Face Off begins March 12 and ends March 19. Here's how it works:
1) Take a picture of your family displaying outstanding basketball team spirit.
2) Upload the picture to Facebook and post it in the "March Madness Fan Face-Off" event or tweet it and use the hashtag #MMFanFaceOff
The winning family will receive a Globetrotter Family Four Pack to see the Harlem Globetrotters play in Charlotte on March 24th.
Have fun showing your family team spirit!
WEEKEND RESOURCES:  Week 2 GodTime Card